Darfur needs you now more than ever before – Speak up; Silence kills more people every day!!!!
Darfur needs you now more than ever before – Speak up; Silence kills more people every day!!!!
Thirteen years into Darfur's catastrophe and civilian casualties increase each day while the world remains SILENT!!!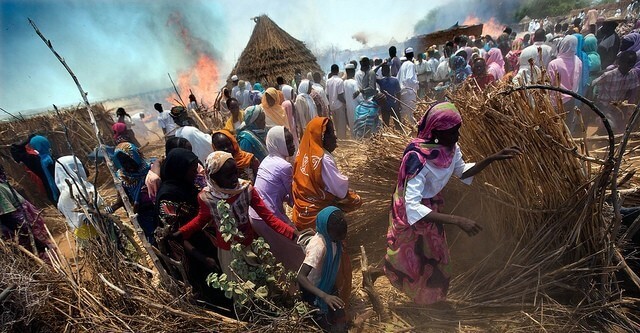 Violence, rape, arrest and torture have devastated the lives of the innocent civilians in Darfur. Countless men, women, and children lost their lives while the living endure unimaginable suffering and have nowhere to turn.  In spite of the alarming rate at which the violence continues to be perpetrated, world leaders have faced the situation in Darfur with silence. Those who have spoken up have not moved beyond words of condemnation.
As you may have seen, 2015 was a very difficult year for our people in Darfur and we were hopeful that 2016 might be different. Unfortunately, the attacks continue at an alarming rate and the international community is, once again, failing Darfur. The Sudanese government falsely declared a ceasefire in the fall, only to prepare for the largest offensive in years.
The Urgency of the Situation:
During the month of January 2016, violent attacks, killing, rape, arrest and torture have devastated the lives of the long suffering innocent civilians of Darfur.  Many men, women and children have lost their lives, and those who have been forced to flee have nowhere to turn, as humanitarian aid has been restricted and controlled by the government of Sudan.
From January 1, 2016 through the 2nd week of January, the people of Mouli area and the city of El Geneina (the capital of West Darfur) have been subjected to a brutal attack by the Janjaweed militants (Rapid Support Forces). Fourteen people have been reported killed and over 150 have been reported wounded inside El Geneina. A majority of the victims are high school students. For more than two weeks, civilians were terrified by the attacks and severe human rights abuses and more than 5000 families have been forced to flee. Sadly, they are people who have been displaced several times during the last 13 years.
Consequently a new surge of violence continues in Central Darfur today, one in which the government of Sudan has renewed and intensified attacks as well as aerial bombing in Jebel Marra. The targeted areas are inhabited by civilians, a majority of whom are women and children. According to sources on the ground, about 124 villages around Jebel Marra have been completely destroyed and over 50,000 people have been forced to flee, some to the caves at the top of the  Marra Mountains. The remainder have been driven to camps and nearby cities where the UN has estimated that about 34,000 are in dire need of humanitarian assistance. They are sadly facing the harsh winter without shelter or food. Reports also confirmed that many women and girls were raped and some taken hostage by the Janjaweed and the Government forces; their fates remain unknown.
The Ongoing Tragedy:
As you know, 2015 was a very difficult year for our people in Darfur as about 233,000 have been reportedly displaced in the 1st quarter of the year, adding to those who were already displaced. Over 3 million people still remain in camps and have been there for 13 years as violence escalates and humanitarian efforts are severely restricted. Rape and all forms of sexual violence continue at an alarming rate in the displacement camps where women are the majority. Millions of Darfuris remain displaced and have been without a permanent home for 13 years while the number of newly displaced people continues to grow exponentially. Many of the targets also include college students that are being abducted, imprisoned, and killed. The genocide continues unabated.
The Challenges Facing Darfur:
President al-Bashir, the mastermind behind the genocide in Darfur and a man indicted and wanted by the ICC, is still actively pursuing his genocidal policy in Darfur and other regions of Sudan. Despite the alarming situation in Darfur, the international community has chosen to ignore it. Similarly, the mainstream media has failed to cover the current situation and the ongoing genocide is no longer making headlines at the New York Times or Washington Post as it had in the past.
The government of Sudan has made every effort to isolate Darfur from the outside world. For example, President Obama's special envoy for Sudan and South Sudan has never been to Darfur since his appointment. The Representative of the UN Secretary General on Sexual Violence in Conflict Zones has also failed to visit Darfur in recent years, even though rape continues unhindered and unreported.
UNAMID, the forces that have been put in place to protect civilians, have failed to carry on their mandate and remain under severe restrictions. They have been characterized by impartiality, incompetence and have not reported deaths and sexual violence committed by the regime forces which were previously reinforced by the former UNAMID spokesperson, Aicha Albasri .
Al-Bashir, the indicted genocidal criminal, has successfully blocked access to information from Darfur in order to continue his crimes and get away with murder.
Change in the Narrative:
Many advocates have moved away from Darfur or condone the change of narrative that the government of Sudan and its allies want to hear, replacing the word "genocide" with "atrocities" in order to water down the urgency of the situation. This has let the international community treat Darfur with less urgency and allows the world to move away from focusing on Darfur.
The world may think the crisis in Darfur has ended because it is not being reported in the news, but the truth is that over 460,000 Darfuris were displaced in 2013, another 500,000 were displaced in 2014, and over 233,000 people were displaced in the first quarter of 2015. In one day alone on October 31st , 2014, 221 women and girls were raped in Tabit village and the perpetrators have suffered no consequences. This is not an isolated incident but it is a systematic tactic and deliberate policy of the regime, which continues to use rape as a weapon of war in Darfur.
On December 18th and 19th, 2015, 700 Darfuri refugees, who had escaped the genocide, were suddenly and forcibly deported from Jordan back to Sudan to face the very genocidal regime that they had fled for protection. At the beginning of 2016, a new surge of violence, using the same strategy of the Sudanese government's "scorched earth" campaign has already begun and is on the way to  kill more people. The government of Sudan has declared a plan to end displacement by 2017, which means wiping out even those who are helpless within the internally displaced camps in Darfur.
A date for a referendum in Darfur has been scheduled for the upcoming  2 months from now by the government to decide on the future of Darfur, even while Darfuri victims are under attack and still struggling for survival with no ability to vote.  There is a strong possibility that there will be a distribution of Darfuri land to Arab tribes and new settlers who were bought by the government of Sudan to overtake the Darfur region. This is a dangerous move which represents the final stage of the Darfur genocide, if it is allowed to happen. What is going on in Darfur today is very systematic and directed toward the same group whom the government has singled out for extermination since 2003; it is Sudan's "Final Solution" within its genocide.
This is why we need you, your voice, and your support.
With the all persisting challenges, Darfur Women Action Group and its supporters remained vigilant and refuse to stand idly by. We say NO to the silent conspiracy on Darfur and decided that we must empower the survivors and the ordinary citizens to speak up.
We called upon our supporters and volunteers to stand with us. We are currently mobilizing and organizing the Diaspora within the United States and across the globe to use their voices, bring more attention to this terrible situation, and demand that our leaders act now before it's too late.
We can't do this without your support and that is why we are calling on you to stand by our side. We know you care and you will not be a bystander in the face of these horrific crimes. DWAG believes that in the face of genocide, we must not let our leaders turn a blind eye or look the other way. We need you to add your voice and speak with us and mobilize the masses.  If we can reach out to more people, we will definitely compel our leaders to act promptly.
We at Darfur Women Action Group are determined to continue to fight against these horrific crimes. We will continue to expose al-Basher's crimes to the world and will continue to fight for justice for the victims and accountability for the perpetrators of the world's worst crimes.
We need you all. Together, we must continue to remind the world and must not let al-Bashir and his cronies get away with murder.
In the coming days, we will continue to share with you our updates and provide you with opportunities to take action. Please help us spread the word and get more people involved.
Do what you can from where you are to empower us to continue to fight for justice in Darfur and across Sudan. As Dr. Martin Luther King said, "Time is always right to do the right things".
We are grateful to have you all by our side.
With gratitude,
Niemat Ahmadi
President, Darfur Women Action Group