DWAG's Global Week of Action: End the Genocide in Darfur and Demand Accountability to Prevent Future Genocide
Please join us from April 19, 2022 through April 28, 2022
Darfur Women Action Group (DWAG) cordially invites you to join our Global Week of Action during this Genocide Awareness and Prevention Month. We invite you to organize events in solidarity with the genocide victims in Darfur and to recommit yourself to the fight for adequate justice for victims under the slogan of "A Future Without Genocide."
The Darfur genocide is one of the worst and longest genocides in history. We need you because of the urgency of the situation. We invite you to join us in our planned activities for our Global Week of Action or organize your own, including rallies, protests, panel discussions, or video screenings, to bring attention back to the forgotten plight of those still suffering in Darfur. The Darfur genocide that began 20 years ago is ongoing while millions are trapped in makeshift camps and fearful of going home because their attackers haven't been apprehended or held accountable. The fear is still present because the anti-genocide movement has faded out and the voice of concerned citizens has gone silent.
To date, millions of people have been killed, displaced, and rape is continuously used as a weapon of war while most of the world leaders remain silent. Recently, there has been escalating violence against innocent civilians. There are attacks across Darfur against those who have survived genocide and those survivors have been displaced hundreds of times. The Sudanese armed forces have thrown protestors and resistance leaders in jail without formal charges. The armed forces are killing innocent people including human rights activists in places like Jebel Moon and nearby areas as well as setting villages on fire.
Due to a lack of accountability, the genocide in Darfur is still ongoing. From April 19th through April 28th, supporters of DWAG, Sudanese activists, and friends of Sudan and Darfur are invited to join DWAG's Global Week of Action or create their own week of action. DWAG's Global Week of Action will include: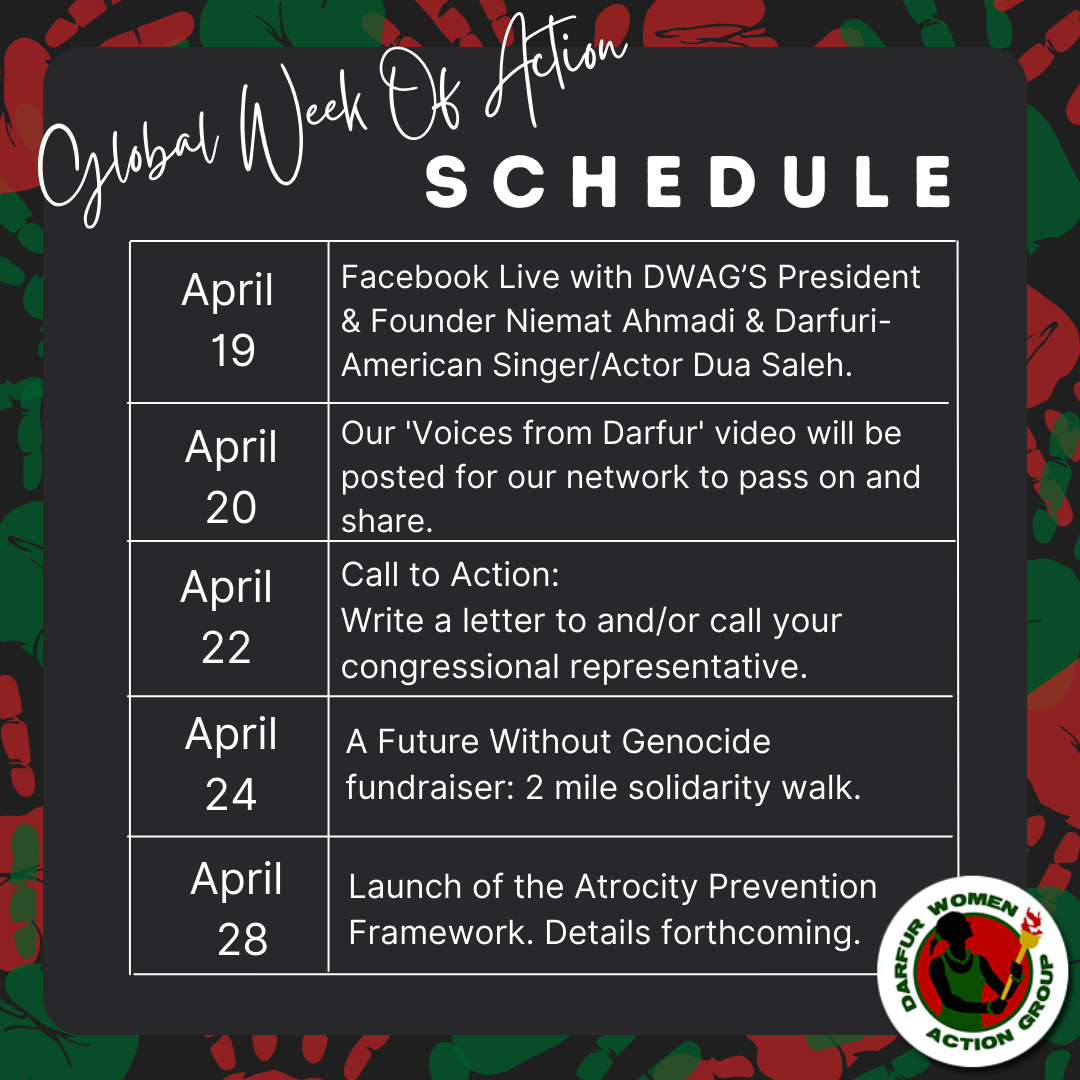 We need your support in the fight against genocide. If we can get people to take action, we can show the world that we care and that in the face of genocide, the world must not look the other way. We can make a difference. Please let us know if you will be joining us in any or all of these activities.
Please share with us your plan so we can help amplify your voice by encouraging people to join you and promote your events on social media.
Thank you,
Darfur Women Action Group