#Vote for Darfur Campaign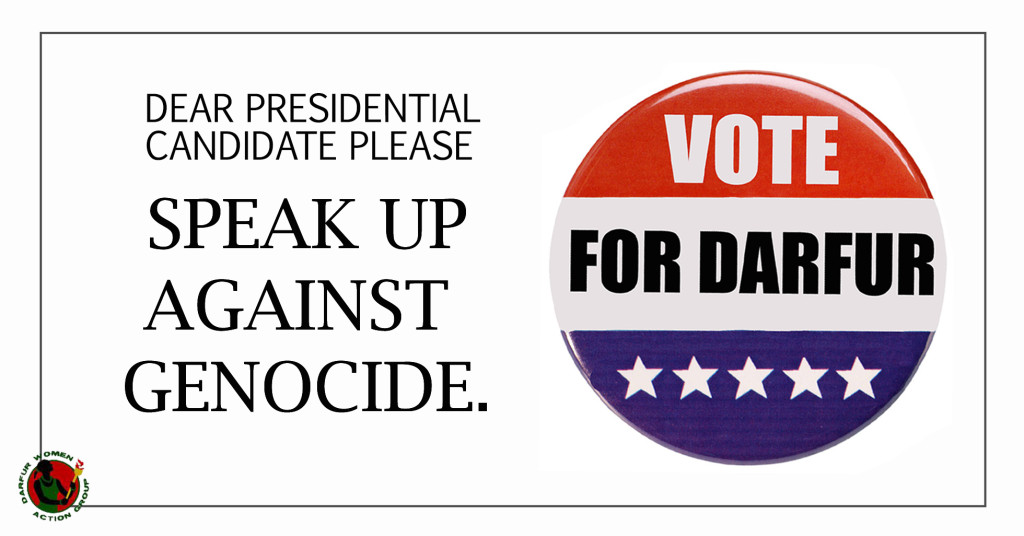 #VoteforDarfur is a bipartisan campaign directed at both the Republican and Democratic presidential nominees urging them to include Sudan and Darfur as priorities in their foreign policy plans. We are asking you, as our supporter, to demand that your candidate articulate his or her position on these issues before you vote for them. Remember, when you #VoteforDarfur, you are urging your candidate to address matters that are extremely important to the American people and their values, as well as to America's national security:
How to take action
In order to participate in our campaign, please share the following statements with the #VoteForDarfur hashtag. We also encourage you to copy the letter below and send it to your candidate – whether it is Mr. Trump or Secretary Clinton. You can also share this letter on social media and tag your candidate!
Stop chemical weapons use against civilians in Darfur + hold government of Sudan accountable! #VoteForDarfur

Stop use of rape as a weapon of war + hold perpetrators accountable! #VoteForDarfur

Dear candidate: what are your position on Sudan and its relation with international terrorist organizations? #VoteForDarfur

The US must not reward Sudan by lifting sanctions and removing its name as a terrorist sponsored country. #VoteForDarfur

Dear candidate: we need a policy on genocide prevention in Darfur in accordance w/ American values. #VoteForDarfur

Dear candidate: pls prioritize accountability for the world's worst crimes – genocide, war crimes + crimes against humanity. #VoteForDarfur

Sudan should meet international human rights' standards, rule of law and respect for human dignity. #VoteForDarfur

I #VoteForDarfur because these issues are important to me as an individual + to my country.
Letter
Dear Mr. Trump/Secretary Clinton,
I am writing to you regarding some very important foreign policy priorities and would be grateful if you would inform us how you plan to include these issues in your agenda, if elected President of the United States.
Twelve years ago, the American people and American lawmakers were moved by the magnitude and ferocity of the genocide in Darfur, the first genocide of the 21st century. So much that President George W. Bush and the US Congress formally declared the situation a genocide in 2004.
Unfortunately, it continues unabated, with over 3 million Darfuris, most of whom are women and children, living in dangerous internal displacement camps (IDP camps). Roughly 60% of the children are of school age but have no access to education; the camps lack humanitarian assistance; and peacekeeping missions have failed to protect the vulnerable. Rape has been used as a weapon of war and women and girls remain the main targets. On one day alone, October 31, 2014, 221 women and girls were raped in Tabit village and, to date, the perpetrators have suffered no consequences. 
The world may think the crisis in Darfur has ended, because it is not being reported in the news, but the truth is that over 460,000 Darfuris were displaced in 2013, another 500,000 were displaced in 2014, and over 233,000 were displaced in the first quarter of 2015. On December 18th and 19th, 2015, 700 Darfuri refugees who had escaped the genocide were suddenly and forcibly deported from Jordan back to Sudan, the country from which they had initially fled. And during the first weeks of January, 2016, the government of Sudan launched a new siege of violence in which they used seven militia battalion and the Sudanese Armed Forces and an estimated six fighter jets to attack villages, where people had already been displaced more than five times. This resulted in killing of hundreds and displacements of thousands and the total physical destruction of more than 124 villages.
This month, Amnesty International released a shocking report with credible evidence that the Sudanese Armed Forces has used chemical weapons in Central Darfur in the Jebal Marra area. This report includes pictures and imagery that goes beyond description.
The Sudanese President, Omar al-Bashir, currently wanted by the International Criminal Court (ICC) for genocide, war crimes, and crimes against humanity in Darfur, continues to carry out his genocidal policy with impunity because the international community has failed to bring him to court. Consequently, the situation in Darfur continues to deteriorate.
Our current administration has been using a conciliatory approach to the genocidal regime in Khartoum and has no policy that can put an end to their unspeakable human rights abuse. Our leaders must not turn a blind eye in the face of genocide. The US and the international community have constantly failed to end a single genocide since the Holocaust through Rwanda and now Darfur. I, and many Americans, are gravely concerned about this and we want to see our country assume more leadership and bring the dream of ending genocide into reality.
In addition to committing genocide against its own people, al-Bashir's government represents a national security threat to America and to our allies in the region because of its undeniable ties with the Islamic Jihadist and other terror groups and we, therefore, wish to see you as a presidential candidate articulate a clear, precise, specific plan about your plan to deal with Sudan as part of the foreign policy agenda..
The government of Sudan  is currently considered by the US a terrorist sponsored regime, since they invited and hosted Bin Laden in mid-90s and there have been allegation of al-Bashir's regime supporting Hamas and having strong connections to ISIS.
We would appreciate your public response on how, if elected President, you would deal with this issue and how you would specifically work with Congress to ensure the end of this horrific ongoing genocide.
I will be grateful for your kind consideration.
Sincerely,