Sudanese Government Must be Held Accountable for Committing Genocide and Using Chemical Weapons in Darfur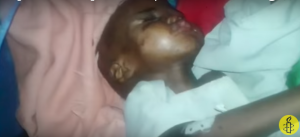 We at Darfur Women Action Group (DWAG) are extremely outraged and gravely concerned about the  use of chemical weapons by Sudanese President Omar al-Bashir and Sudanese Armed Forces against residents in Darfur as confirmed in the recent report by Amnesty International.
For more than 13 years the government of Sudan has carried out systematic attacks against the Darfuri, which has led to the indictment of al-Bashir for genocide by the International Criminal Court (ICC). However, since January 2016 there has been an unprecedented escalation of violence – especially in the Jebel Marra area – with bombing of villages, abduction of civilians, rape of women, looting of private property, and now the use of chemical weapons.
Amnesty International reports that in the past six months, at least 32 villages in Jebel Marra were targeted with chemical bombs, most likely sulfur mustard, lewisite or nitrogen mustard. As a result, between 200 and 250 civilians have died of exposure to these agents, most of them children. According to the report, many others developed life-threatening symptoms, including "severe gastrointestinal conditions involving bloody vomiting and diarrhoea; blistering and rashes on skin which reportedly hardened, changed colour and fell off; eye problems including complete loss of vision; and respiratory problems".
Our sources on the ground say that this is not the first time that the government of Sudan has used chemical weapons in the area, and that this is the reason why President al-Bashir has consistently blocked access to the region by journalists and foreign aid workers.
The situation cannot be ignored by world leaders any longer. We at Darfur Women Action Group (DWAG) demand that the United Nations Security Council hold the Sudanese Government accountable for yet another war crime in a long list of mass atrocities against the Darfuris. We are extremely concerned that the situation in Darfur continues to deteriorate while the international community is failing to hold President al-Bashir and his henchmen accountable.
"It is extremely dangerous that our leaders have been consistently silent about the situation in Darfur. If they continue to treat Darfur with impunity, it means that they could allow the same to happen in their backyards. As committed citizens, we must speak up and hold them accountable for violating their obligations under the Geneva Conventions, the Chemical Weapons Convention and customary international law", says President of Darfur Women Action Group (DWAG), Niemat Ahmadi.
Accordingly, we call on our supporters to add their voice and ask that world leaders and international organizations take measures to hold the government of Sudan accountable for using deadly chemical weapons against innocent women, men and children. And that they pressure the Sudanese Government to stop the ongoing genocide against the Darfuri.
We call on the United Nations Security Council (UNSC) to implement its existing resolutions condemning serious violations of international humanitarian and human rights law by the government of Sudan, and to ensure that the Sudanese Government and its officials are held accountable and brought to justice immediately.
We call on President Barack Obama and all world leaders of good conscience to condemn the ongoing genocide in Darfur and  to lead the international community in calling for an immediate stop to all violence against civilians in Darfur and to impose more effective sanctions to prevent further atrocities by the Sudanese Government.
The United States and the United Nations Security Council (UNSC) must pressure the Sudanese Government to allow humanitarian aid organizations and t

he United Nations–African Union Mission in Darfur (UNAMID)

to deliver much needed aid and support to all affected communities in Darfur.
We call on all governments and intergovernmental organizations alike to match their resolutions with meaningful action to hold the government of Sudan and its officials accountable and to demand that these cruel acts of horror are immediately stopped and punished.
Niemat Ahmadi
President
Darfur Women Action Group (DWAG)