At around 9 am on May 21st, the Sudanese Government sponsored Rapid Support Forces brutally attacked a camp of Internally Displace People in Zalingi, Central Darfur. Credible sources confirmed that on Monday uniformed militias, in vehicles loaded with DShK(Dushka) machine guns as well as an arsenal of other weapons, entered the Khams Degaig camp and began shooting civilians at random. The militias brutally injured ten people and killed a 22-year-old woman and severely wounded her 17-month-old son.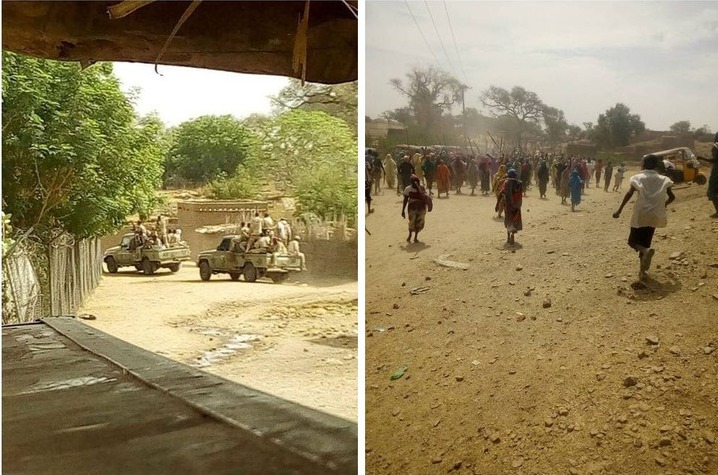 Those in the camp had begun a peaceful protest, which soon spread throughout the city. They were demanding protection and asked that the government stop its militias from killing innocent displaced people. Shockingly, their peaceful protest and demands were met with the heavy gunfire of the city police. This is testimony that the people of Darfur have nowhere to turn for protection or justice.
Monday's incident in Zalingi was horrifying, but, unfortunately, it is not an isolated incident. It is part of the ongoing systematic genocide that has been going on unabated with unprecedented impunity for the last 15 years. This was not the first incident in 2018. Beginning in January 2018 and continuing through late April, the Sudanese Government has intensified its attacks against civilians in the Jebel Marra area where they have destroyed dozens of villages, destroyed food, forced people to flee and restricted their access to humanitarian aid, leaving them to suffer.
Dear DWAG supporters, every day we hear of new devastating assaults against our people while the international community has abandoned us. Today, the suffering of the people of Darfur has gone on for far too long and we need to do whatever we can to make sure that civilians are protected, their suffering ends, and the perpetrators are brought to justice.
We are working very hard to reach out to ask more people to speak up, to reach out to their policymakers and compel them to act.
We can't do this alone! We need you, need your voice and your support.  Please help us make our voices loud enough to ensure that President Bashir does not continue getting away with murder.
Sign our petition to the US Congress demanding strong US policy on Sudan which prioritizes the protection of human rights, and the accountability of a genocidal regime.
Share our statement and our petition on social media with 5-10 people in your network and urge them to act.
Donate to our organization so that we can continue our fight against genocide and the complicity of the international community.
Please speak up and support us to show the world that ignoring genocide must not be an option
Thank you!
With gratitude,
Niemat Ahmadi
President and Founder
***Please note that the photos below are graphic and you may not wish to view them. ***