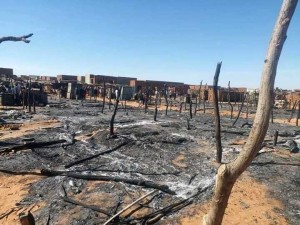 Buildings torched by RSF raid in West Darfur (Source: Radio Dabanga)
Nearly a year after the removal of Omar Al-Bashir, civilian security remains a major concern in Darfur and other crisis-affected regions of Sudan. The last two months have seen an alarming number of destabilizing events including a massacre in West Darfur, continuous raids on other Darfuri villages, proxy tribal clashes in Port Sudan, and a mass killing in Abyei. These incidents are situated within a broader trend of violence that has furthermore engulfed South Kordofan, Blue Nile, and the Sudanese-Ethiopian border. The Interim Government of Sudan's attempts to resolve the situation have fallen woefully short.
West Darfur Massacre
On the evening of December 29th, 2019, witnesses reported that Masalit tribesmen and Maaliya herders engaged in a heated dispute that resulted in the death of a member of the latter party. This provoked an armed retaliation by the herdsmen, many of whom were seen in military uniforms firing heavy weapons from vehicles owned by the Rapid Support Forces (RSF). The onslaught destroyed buildings in the West Darfur capital city El Geneina, several neighbouring villages, both displaced persons camps in Kerending, and sections of a third refugee camp. More than 80 people have been reported killed, 190 people reported injured, and 80,000 people otherwise affected.
The massacre evolved when over a dozen RSF vehicles stormed the Kerending camps and fired indiscriminately at men, women, and children. With the camps torched to the ground, over 47,000 residents have been left without homes or organized humanitarian assistance for more than a week. They are surviving on limited amounts of grain and clothing donated by internally displaced persons of other camps, many of whom are in dire need of assistance as well.
Domestic and international organizations have since condemned the incident. Both the UN Secretary General and the UNAMID peacekeeping force have expressed their respective concerns. The El Geneina Crisis Committee has spoken in protest of the West Darfur government. Likewise, both the High Committee for Managing the West Darfur Crisis and the Forces for Freedom and Change (FFC) have concluded that the incident is tied to residual interests of the previous Bashir regime. The Sudanese Attorney General has begun an investigation with a strong vow to bring perpetrators to justice.
Words alone, however, are not enough to remove the security apparatus that al-Bashir's totalitarian regime has installed. This massacre is not an isolated incident, but instead part of a strategy to fully eliminate the people of Darfur. Only a concerted action by the individuals currently in power and by international stakeholders will put an end of the suffering.
Rape and Violence Across Darfur
The security situation continues to decline across the entirety of Darfur. The common trend of violence constitutes raids upon farming villages by armed herdsmen – a historical parallel to the origins of the Darfur genocide in 2003. For instance, on December 1st, four villagers were wounded by gunfire in raids upon Kass (South Darfur) and Sirba (West Darfur). Two days later, a 13-year-old girl was raped and 5 farmers were injured by herders in Nierteti (Central Darfur) and Sirba (West Darfur). On December 17th, one farmer was killed and another was injured in El Fasher (North Darfur). January saw no abatement in the raids. On January 16th, a young girl was raped and two people were killed by gunmen in Tawila (North Darfur). On January 20th, armed herdsmen opened fire on a wedding party in Mershing (South Darfur). 8 people were killed and 23 people were wounded. The listed incidents above only exemplify a smattering of the true magnitude of horror faced by the people of Darfur on a day-to-day basis.
Local government efforts to protect the residents of Darfur have been unsuccessful at best. Police officers are often woefully underprepared to fight back against the gunmen, if not targeted as victims altogether. On December 7th, 2019, 20 farmers and a public official were captured and tortured by herders in Kabkabiya (North Darfur). In continuation, on December 17th, a police colonel and his family were robbed and beaten in Nyala (South Darfur). On January 9th, 2020, police had captured several armed herdsmen that had shot four people in Sirba (West Darfur). However, the police station was quickly overwhelmed and the perpetrators were set free. Even the former UNAMID peacekeeping headquarters was systematically looted, supposedly with the support of corrupt local officials, in Nyala (South Darfur) at the end of September.
It is evident that the security and well-being of the residents of Darfur is not tenable in the current state. Policy options such as a prolonged and expanded UNAMID mandate, as well as increased policing capacity for local government, have been proposed as solutions.
Port Sudan's Tribal Clash
Two separate tribal clashes – one on December 12th, 2019, and the other from January 2nd-6th, 2020 – occurred in the city of Port Sudan and its surrounding areas. Both incidents demonstrated fighting between settlers from the Nuba Mountains in South Kordofan and the residents from the Eastern Sudanese Beni Amer clan. In the December incident, 29 people were wounded when Nuba men attacked a market within city limits. In the January incident, violence was more widespread and intense with members of both groups fighting with stones, knives, and firearms. 14 people were killed and 115 people were wounded.
The Port Sudan violence is by no means isolated in existence. Many hold the former Bashir regime responsible for continuing to incite instability in the area since August 2019. The current government, still struggling to understand the root cause of the clash, has largely fumbled in its response. It has dispatched the RSF to contain protests and keep peace in the city, much to the consternation of many residents. Other measures include the imposition of a nighttime curfew and the increase in security for public buildings. It is unclear as to whether peace negotiation processes have gained any fruition between the two rival groups.
Mass Killing at Kolom Village, Abyei
A group of gunmen attacked Kolom Village in Abyei with machine guns on the morning of January 22nd. The reported casualties include 32 people killed, 25 injured, and three children gone missing. 19 buildings within Kolom were also razed to the ground. The motivation of the attack is still unclear, although the governor of Abyei alleges the gunmen to be affiliated with the Sudanese Armed Forces. The United Nations Interim Security Force for Abyei (UNISFA), among other humanitarian organizations in the area, has acted to provide assistance for survivors. Lieutenant General Hemedti has spoken out in condemnation of the attack, believing it to be an attempt at sabotage against peace negotiations over the Sudan-South Sudan border.
Other Incidents
Other alarming incidents over the past two months include the continuous suppression and intimidation of the residents of South Kordofan by the Popular Defence Forces, a paramilitary outfit financed by the Sudanese government. Similar government oppression exists in the Blue Nile, with a 16-year-old girl raped by police in Geisan on December 12th. Community members' attempts at formal complaint were quickly dissolved. However, this is not to say that the government-security apparatus has been cohesive on its own accord, or effective in its slated purpose of national defense. On January 14th, elements of the military and security forces collective mutinied in Khartoum and El Obeid. Soldiers on strike initiated random shooting and terrorized residents in strategically important areas of both cities. Credible allegations attribute responsibility to Salah Gosh, the former head of National Intelligence and Security Services (NISS) currently in exile in Egypt. In parallel argument, conflict along the Ethiopian-Sudanese border has exposed the government's inability to fully protect its people. Several Sudanese nationals have been kidnapped or killed by armed gangs on forays from Ethiopia.
Conclusion
It must be underscored that the violent incidents in Darfur, Port Sudan, Abyei, South Kordofan, and Blue Nile are coordinated attacks by the former Bashir regime's embedded elements. These attacks, alongside the crime at the Ethiopian-Sudanese border, further highlight the continued threat that civilians face in these historically marginalized areas. It also evidences the argument that the current Interim Government of Sudan lacks the political will and capacity to protect its citizens as well as to hold criminals accountable.
By failing its duties, the Interim Government of Sudan sets a dangerous precedent of impunity for the perpetrators of crimes in the past and the present. This emboldens potential criminals in the future by signaling that they will likewise not be held responsible.
DWAG call on the international community to hold the Interim Government of Sudan accountable.
We demand unimpeded humanitarian access to those in need in Darfur and across the remainder of the country.
We press the Interim Government to surrender International Criminal Court indictees Omar al-Bashir, Ahmed Haroun, Ali Kushayb, Abdelrahim Hussein, and Abdallah Banda to the Hague to face trial.
Rapid Support Forces and all militias must be withdrawn from Darfur areas inhibited by civilians
Without the satisfaction of these demands there will be no peace in Sudan, and especially not in Darfur where millions of genocide victims are still under attack and longing for justice.
Latest Headlines
March 28 - 2022
March 28 - 2022
+ Read More