Light a Candle for Darfur
International Women's Day 2020 – Generation Equality
Celebrating the Resilience and Courage of the Darfuri Women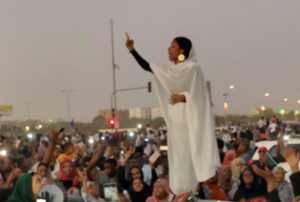 Darfur Women Action Group (DWAG) wishes to invite you to join us in celebrating the women of Darfur, South Kordofan, and Blue Nile for their outstanding resilience in the face of unimaginable suffering. We would also like to commemorate women's leadership across Sudan that has inspired people to stand up and demand change. Despite the fact that Darfuri women are still under genocidal attack and are yet survivors of brutal and systematic mass rape, they continue to persevere and serve as the lifeblood of their communities. Today, on International Women's Day, we need to let them know that they are not alone and that there is hope.
DWAG's core priority is to systematically change the way the world responds to crimes committed against women in Darfur. In doing so, we recognize the plight that they face and need your help to support their leadership and resolve in resistance.
In Darfur, Sudan, rape has been used as a weapon of war. Women have been extremely affected, widely oppressed, and forced to live in silence for more than 17 years. Women and children represent approximately 85% of the internally displaced persons in Darfur and inhabitants of refugee camps in neighbouring countries. Women have nonetheless demonstrated an outstanding resilience, strength, and resolve to combat genocide. They are some of the best spokespersons and leaders within their respective communities. At this point in time, however, the abilities of women have not been utilized effectively to bring an end to the crises in Darfur and across Sudan. During the 30 years of the al-Bashir regime, Sudanese laws have categorically discriminated and caused violence against women (examples include the flogging of women who choose to wear pants).
Despite rape in Darfur continuing at an alarming rate, protection projects and effective counteractions have not been put in place. On March 4, 2009, in response to the International Criminal Court (ICC) warrant against President Bashir, the Sudanese government expelled thirteen international NGOs and shut down 3 national NGOs – all of whom were providing critical support and survival means to the affected communities. Even after the loss of civilian support following the expulsion, women took on the challenge of working among their people, providing for their families, protecting the vulnerable, and fighting for individual/community rights.
Even though Omar al-Bashir is no longer in power today, government practices have yet to be reformed and much needs to be changed on the ground. An institutional policy of oppression exists to shape negative societal views around women in Sudan, Therefore, we need more than just words to celebrate these brave individuals in Darfur and across the country. We must take tangible steps toward progress and genuinely challenge such conventional power structures. It is crucial to recognize women's resilience while taking immediate actions toward their effective empowerment. We must fight to end their continued oppression.
DWAG believes the following steps are fundamental for the above purposes:
Pursuing accountability (starting with the trial of al-Bashir and his accomplices) for crimes committed against women in Darfur and other marginalized areas of Sudan. These crimes especially include violence committed against numerous women protestors.
Providing tools, resources, and opportunities for women to exercise their voices and capabilities in fostering sustainable change in Sudanese society.
Ensuring women's participation in decision making at all levels of any intervention by the Interim Government of Sudan, NGO's, and the international community.
Improve women's access to information, knowledge, and means of communication.
Please join us throughout the month of March to reinforce these demands and to continue to celebrate the women of Darfur in a practical way.
With our collective strength we can make a difference.
Thank you.
Latest Headlines
March 28 - 2022
March 28 - 2022
+ Read More