International Women's Day 2017
We hear stories of resilience, tragedy, and horror every single day. And yet, international institutions continue to betray and ignore the women of Darfur. You can help.
Dear supporters,
On this International Women's Day, we would like to bring your attention to the daily suffering and resilience of women in Darfur, and ask for your help. While most women around the globe are celebrating their achievements, Darfuri women are still under genocidal attack and continue to be victims of brutal and systematic sexual violence. In the meantime, international intuitions are failing to hold the perpetrators accountable.
Darfur Women Action Group (DWAG) strives to change the way that the world responds to crimes committed against women in Darfur and we need your help.
Today, we will honor one of these brave women by sharing her story. Nafisa Suleiman Haroun, 36 years old, was recently stabbed in the heart while fighting for dignity. Please read her story and support Darfuri women by taking the actions suggested at the bottom of our statement. By honoring Nafisa we will honor every single woman who has been a victim of genocide in Darfur and elsewhere.
On February 13, five women left their village in Barbogat area, North Darfur state, to collect firewood from a nearby valley. For the past 13 years, firewood has been the main source of fuel and cooking for families in displaced camps. Usually, women have to walk for many hours, or sometimes for a whole day, to reach a forest.
As the five women distanced themselves from their homes, three armed men on horseback surrounded and attempted to rape them. The women resisted with all their strength. They refused to be violated. They did not want to become victims of the systematic rape in Darfur – a tactic used by the Sudanese regime to undermine Darfuris.
As the women fought back, the armed men grew angry with their refusal. One of the men stabbed 36-year-old Nafisa Suleiman Haroun – in the heart. She died on the spot. Nafisa paid a very high price for her dignity.
We were horrified and deeply impacted by the news reports of this incident on the heels of International Women's Day. Not only because it is tragic, or because the stabbing in the heart is symbolic of the situation of women in Darfur, but also because similar incidents of rape and violence happen every day in the region with total impunity.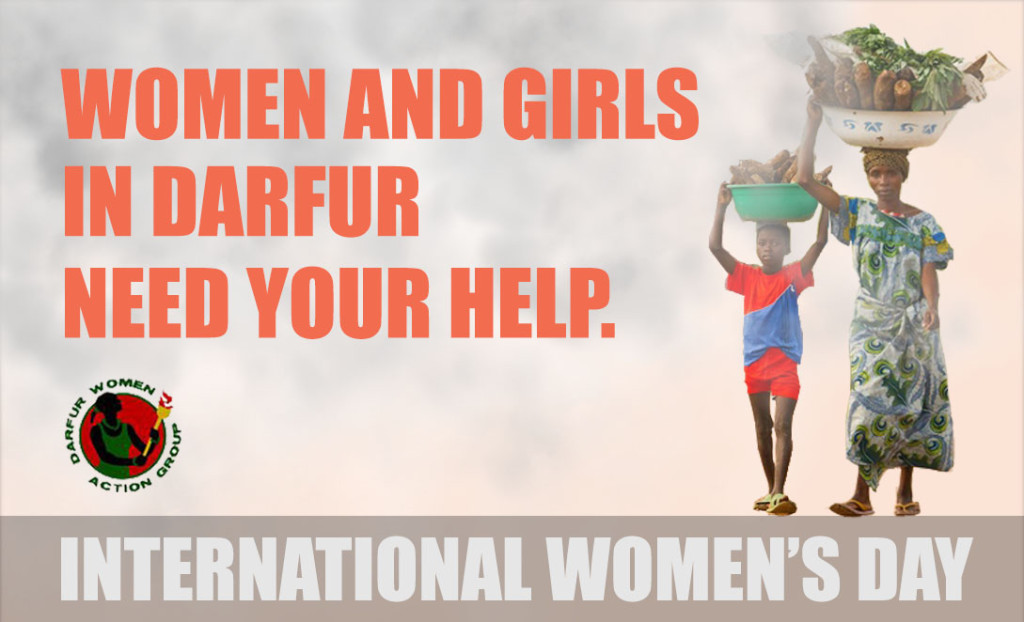 What is happening in Darfur?
For more than 13 years, the Sudanese government's military forces and their allied militia (Janjaweed) have carried out systematic attacks against the Darfuri people based on their ethnicity. They have bombed villages, abducted civilians, looted private property, and used rape against women and girls as a weapon of war and intimidation. As a result, over 3 million Darfuris were forced to leave their villages for Internally Displaced Person's (IDP) camps located in Chad. Over 80% of these people are women and children, who live with limited access to humanitarian assistance, education, and protection.
Countless women and girls are subjected to brutal rape, humiliation, beating, starvation and diseases on a daily basis. Rape and sexual violence in Darfur are not mere byproducts of war. They are well-planned and deliberately orchestrated attacks intended to tear apart families, break down leadership structures, and leave long-term social, emotional, and physical scars on entire communities.
Despite the alarming rate of rape and other forms of sexual violence, little has been done to address the situation. Until today, no research has been conducted to determine the exact number of women raped and the impact of sexual violence on women and girls. Tragically, the perpetrators have not been brought to justice.
International leaders have failed to take action, and have been echoing the Sudanese Government's narrative that the crisis in Darfur is over. Even though the Sudanese Government claims that the situation has improved, violence is progressively getting worse. According to a report by Amnesty International, in the first six months of 2016, at least 32 villages in the Jebel Marra region were bombed with chemical weapons, killing between 200 and 250 civilians. On the very first day of 2017, military troops viciously invaded the city of Nertiti, in Jebel Marra, and committed a brutal massacre, slaughtering 10 innocent civilians and injuring another 60 people during the attacks.
Please join us this month to speak up for the women in Darfur, empower survivors, and seek justice for victims:
Share our statement on social media and use the hashtag #StopRapeInDarfur.

Donate to our organization to support our "Women Empowering Women" project to raise U$ 10,000 by the end of March.

Organize a screening of our "Violence Against Women" video to educate more people. Contact us and we will send you a link!

Organize a fundraising event for DWAG. We will give you all the tools to help us reach our fundraising goals.

Invite DWAG to speak at your school, congregation or community center in order to educate more people about the situation in Darfur.
With gratitude,
Niemat Ahmadi, President Darfur Women Action Group
1050 17th Street NW , Suite 1000
Washington, DC 20036