DWAG Response to Darfur Highway Construction
On July 11, 2018, Radio Dabanga reported: "Sudan's National Roads and Bridges Corporation and El Juneid Company have signed a contract for the construction of the Nierteti-Rokoro-Tarny-Tabit road in Darfur, with a length of 90 km, to be implemented within a period not exceeding 30 months."
DWAG certainly recognizes the need for infrastructure improvements in Darfur. However, when the overwhelming majority of Darfuris are in displacement camps and still fighting for bare survival, priority must be given to security and well-being of the people if the government is sincere in its stated desire to bring peace and development to Darfur. Observers of Sudan and Darfur should not lose sight of the real issue, and we must see this government ploy for what it really is: an attempt by the government to distract from its genocidal military campaign in Darfur and seize some international good press.
The al-Bashir regime has gone to great lengths to promote the notion that genocide in Darfur is over, and that Darfur is now a post-conflict zone in need of development. This is a fabrication and a smoke-screen. ACLED reports that there have been 215 violent incidents in Darfur in the first six months of this year alone. Uniformed government forces and militias continue to ravage the population of Darfur, including during a recent and ongoing military campaign in the Jebel Marra region which has displaced over 30,000 civilians.
The map below shows the route of the planned highway in blue, and the sites of all recorded incidents of violence against civilians perpetrated by government forces and militias, reported by ACLED within the first six months of 2018. The proposed highway cuts straight through the Jebel Marra region, which can be clearly seen as the center of the largest cluster of incidents of violence against civilians. The international PR campaign intentions are clear: the government of Sudan wants to be seen as helping the people of Jebel Marra. If the government really wanted to help, it would end the campaign of violence against civilians which is currently ongoing.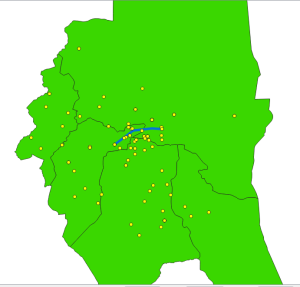 Map 1: Proposed Highway and Violence Against Civilians in 2018
The announcement of this highway project comes at the same time as Bashir's continued attempts to close IDP camps throughout Darfur and to bring Darfuri refugees back to Sudan from Chad. Again, we must not attribute the motivations for these projects as the Sudanese government sign of change of heart but as part of a tactic the regime has long used to divert attention from the long suffering of the people of Darfur. This is a show for the international community, as the Sudanese regime desperately needs legitimacy in order to rescind decades-old sanctions which have crippled the Sudanese economy. Bashir has a long history of willingness to talk the talk. He has never been willing to walk the walk of real peace and prosperity for the people of Darfur, and this road is no exception.