Darfur Women Action Group's #16Days Campaign
From November 25th to December 10th (International Human Rights Day), Darfur Women Action Group (DWAG) will be participating in the 16 Days of Activism Against Gender-Based Violence Campaign – a worldwide initiative to bring awareness to violence against women and girls. We want to take this opportunity to shed light on the long-standing genocidal attacks against women in Darfur, and to recognize the courage of these women in the face of mass atrocities. These women have been through unspeakable suffering and have demonstrated outstanding resilience. To participate in our campaign, share our LEARN and LISTEN messages on social media to bring awareness about this issue (Facebook and Twitter) and TAKE ACTION to help the women in Darfur.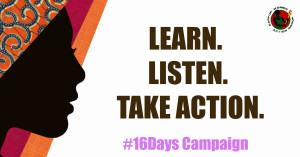 THIS IS IMPORTANT.
Since 2003, violent attacks, rape, arrests and torture have devastated the lives of the innocent civilians of Darfur. Countless men, women, and children lost their lives or were forced to endure unimaginable suffering. Women and girls have been frequently targeted for sexual violence, and are often left to suffer in silence.
Sudanese President al-Bashir is the mastermind behind the genocide in Darfur and is wanted by the International Criminal Court (ICC) – he has been indicted with 10 counts of genocide, war crimes and crimes against humanity. The ICC also found evidence that rape is being used as a genocidal tool – to oppress and humiliate the Darfuri people. Regrettably, al-Bashir is still actively pursuing his genocidal policy in Darfur and other regions of Sudan, and continues to victimize women.
Even though the situation in Darfur is progressively more alarming, and violence continues to rise at an alarming rate, world leaders have faced the situation in Darfur with silence. Those who have spoken up have not moved beyond words of condemnation. Similarly, the mainstream media has not treated Darfur with the urgency that it deserves, failing to cover the current situation. The ongoing genocide is no longer making headlines at prominent newspapers such as the New York Times or the Washington Post, as it had in the past.
Since it is not in the news, the world may think that the crisis in Darfur has ended. But the reality is quite the opposite. Over 460,000 Darfuris were displaced in 2013, another 500,000 were displaced in 2014, and over 233,000 people were displaced in the first quarter of 2015. Many Darfuri now live in internally displaced and refugee camps in Sudan and Chad – where the overwhelming majority, about 80-95%, are women and children.
At the same time, rape continues to be a systematic tactic and deliberate policy of the regime, who uses it as a weapon of war and intimidation. In one day alone on October 31st, 2014, 221 women and girls were raped in Tabit village. The perpetrators have suffered no consequences and have yet to be investigated by the United Nations. Those who dare to speak up against the attacks on women (women's rights activists, civil society leaders and human rights defenders) have been subject to arrest and derogatory treatment by oppressive Sudanese government authorities.
WE NEED YOU, YOUR VOICE, AND YOUR SUPPORT.
This pressing issue has helped us realized that we need to reach out to supporters for help. We need to mobilize the masses to shed light on this dire situation and take further action towards tangible change. Remember, it only takes one person for positive change to begin. Darfur Women Action Group will remain vigilant and refuse to condone the silence of the international community. We say NO to the silent conspiracy on Darfur and YES to empowering survivors and ordinary citizens to speak up.
WILL YOU JOIN US IN OUR #16DAYS CAMPAIGN?
LEARN.
Let's make an effort to understand the situation in Darfur, the ongoing genocide and how it affects women and girls.
LISTEN.
Let's read and share stories of Darfuri women, their suffering and outstanding resilience.
TAKE ACTION.
Lastly, please join us in taking at least one action that will help end violence against women in Darfur:
Raise awareness by sharing our campaign content on social media, using the hashtags #16Days and #StopRapeInDarfurNow.
Tag United Nations on social media and demand accountability for the 2014 mass rape in Darfur. Share it with 10 people in your network. Use @UN on Twitter and @UnitedNations on Facebook.
Donate to DWAG to support a rehabilitation center for women survivors of sexual violence in Darfur.
Join our Rapid Response Network, a group of community members who are on standby to help us with campaigns and petitions.
Send a solidarity message that we can share with our supporters and the women in Darfur: communication@darfurwomenaction.org.