5th Annual National Symposium on Women and Genocide – PART 1
Stories of Suffering and Resilience Take Center Stage
By Carla Ruas
Nadia Taha was only a schoolgirl when her native Darfur changed before her eyes. Typically, local villages in western Sudan were tight-knit, in close contact with nature and always at ease. But in 2003, the Sudanese government, led by President al-Bashir, began a campaign of mass killings of the Darfuri people, slaughtering entire communities with aerial bombs and armed militia raids. Thousands of civilians were killed, women were gang-raped, and many more Darfuris were forced to abandon their homes and flee into the desert. Ms. Taha's family fled to El Fasher, a city in North Darfur. Due to the city's size, it was supposed to be safer than their small, unprotected village. But fighting broke out there, too. Ms. Taha's brother went missing and many immediate family members were killed. The trauma of death and loss made her mother physically ill and she passed away. "I was just in high school, and seeing my mom's health deteriorating every day was a heartbreaking experience. The loss of my mom is a tragedy that has changed my life forever."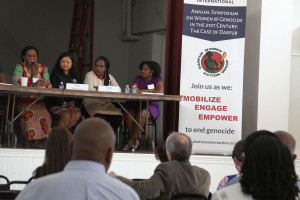 Ms. Taha, now a successful journalist in the United States, shared these painful memories during the 5th Annual Symposium on Women and Genocide: The Case of Darfur, which took place in Washington, DC, between October 21-24. Yearly, the event has attracted speakers and attendees from all over the world who are committed to the study and prevention of genocide and violence against women in conflict areas. This year, the first two days of the event featured a series of panels with survivors and experts in the ballroom of the New York Presbyterian Avenue Church in Washington D.C. , while the following days were dedicated to advocacy training and lobbying on Capitol Hill.
Ms. Taha spoke on the very first panel of the symposium, "Women's Resilience in the Face of Genocide and Mass Atrocities," which also featured survivors from Rwanda, Burma, Congo and Nigeria. At one point she confessed to the audience that this was the first time that she was sharing her story. And as she made this surprising admission, she could not hold back the tears that ran down her cheeks. It was a difficult opening panel for the almost 100 attendees to watch. However, Darfur Women Action Group's (DWAG) president, Niemat Ahmadi, later revealed that it was not a coincidence that the survivors' accounts were scheduled first. Their accounts of pain and resilience set the stage for the thought-provoking panels that followed – featuring academics, activists and aid workers.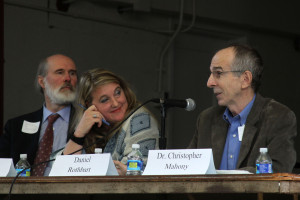 Daniel Rothbart, professor of Conflict Analysis and Resolution at the George Mason University, was one of the speakers who attempted to unravel the survivors' traumatic experiences. In the panel "Genocide in the 21st Century," he explained the concept of genocide. It is well-known that genocide is a crime of long duration and involving mass atrocities. But not everyone realizes that genocidal violence can take many forms. "There are visible and invisible types of violence. Some are well-known, such as violence used to punish the body and traumatize the mind. But there are others, such as verbal and cultural violences," Prof. Rothbart explained. "These are a set of social institutions that promote stark inequality between segments of the population in order to subjugate a certain group, not much different from the Jim Crow laws that segregated the United States," he noted.
In such an environment, women and girls are susceptible to yet another type of violence – systematic, ritualized rape and sexual exploitation, according to Elisa von Joeden-Forgey, Director of the Master of Arts in Holocaust and Genocide Studies Program at Stockton University, who spoke at the same panel. An expert on the topic of gender and genocide, Ms. von Joeden-Forgey reminded the audience that violence against women and girls is one of many elements in a genocide's multi-pronged strategy of attack. "Genocide is a crime that targets reproduction. It is a crime of reproductive violence," she stated. "The goal is to destroy the life foundations of a particular group that is being persecuted."
How to end such systematic atrocities? For Maureen Murphy, Senior Research Associate at George Washington University's Global Women's Institute (GWI), the first step is to gather more data about genocide. During the panel "Strategies for Women's Empowerment," she described how organizations can use research to prove that genocide is taking place (or has taken place), and that women are systematically targets of sexual violence. At the moment, there are few reliable studies on genocide, particularly on the topic of violence against women and girls. Almost no research has been conducted in Darfur, for instance, due to the difficulty of accessing the area. But in South Sudan, where some evidence has been collected, data indicate that rape and sexual assault from non-partners have increased during periods of conflict. "Violence against women is used as a weapon of war and [these women] remain affected by this violence throughout their lives."
With this type of evidence, organizations could pressure world leaders to speak up against such atrocities and to allocate resources for prevention programs. Too frequently, the international community refrains from any type of intervention by stating that there is no proof that genocide is taking place. During the Rwandan genocide, for instance, the United States refused to take a leading role and even discouraged a robust UN response. More recently, throughout the Darfur genocide, President Barack Obama has strategically avoided using the "G word," so that it is not pressured to intervene. Other powerful countries have used the same argument and stayed silent as the atrocities in Sudan have unfolded.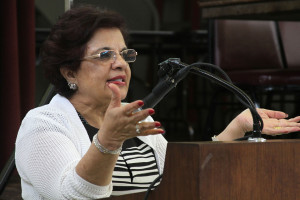 Honorable Senator Mobina Jaffer, a leading Canadian politician on human rights and an accomplished women's leader, delivered the keynote address at the symposium, in which she touched on the international community's limited response to end mass atrocities around the world. "The international community has constantly used an ineffective approach to conflicts. Even when governments do come into a crisis situation, they leave before the job is finished. That is exactly what happened to Darfur," she said. The Senator served as Canada's Special Envoy for Peace in Sudan from 2002 to 2006 and became deeply engaged with the area. She is now hopeful that a joint effort by politicians and activists could be the key to ending Darfuris' suffering. "We politicians cannot do it on our own. We do not have the knowledge of activists, but we are able to access resources. So we need to work as a team," she said.
Accountability for perpetrators, reparations to survivors, and legal justice are also needed. Mona Khalil, legal adviser at the Independent Diplomat, reminded attendees that Sudanese President al-Bashir was indicted by the International Criminal Court (ICC) in 2009 for genocide, but has never been arrested and continues to rule Sudan. The United Nations Security Council (UNSC) referred the situation to the ICC, but did not support the court in proceeding on the matter. The United Nations (UN) General Assembly and individual member states with political leverage in the region also refused to use their ties to make a difference. The ultimate message is that genocide is not an easily punishable crime – and one can get away with it. But there is good news, says Ms. Khalil: "As humans and activists, we can alter that dynamic by raising the cost of silence," she noted in the panel "Accountability for Genocide and Crimes Against Women."
As the the first two days of the symposium (and the panels) came to an end, it became clear that the blending of real-life experiences and theoretical ideas was a success. Survivors shared their stories, academics and experts gained feedback on their research findings, and advocates were energized to continue their plight against genocide and mass atrocities. The symposium also brought attention back to Darfur and the forgotten but still ongoing genocide. And it gave attendees hope that if we can bring so many different people together against genocide in one room, then we can work collectively toward accountability and prevention. Ending genocide is possible.
For part 2 of this blog click here.