#16 Days Survivor Stories: Aisha Khalil
It Was The Happiest Moment, and I Will Never Have it Back
"My name is  Aisha Khalil and I am currently living in an internally displaced person (IDP) camp in central Darfur. I am here because my life changed in July 2003, when I was only 10 years old. It was a beautiful sunny day in my village. It was a market day, which was always the best day of the week because my mom, dad, and grandmother would purchase all sorts of fruits and snacks for my siblings and me. In the evening, we gathered outside as they distributed our gifts. Grandmother told us stories under the moonlight and pointed out this one star that was higher than usual. She said it was a sign that it wasn't going to rain much this year. We all laughed and asked how she knew such things. It was the happiest moment, and I will never have it back.
Around midnight, we heard shouting, then multiple gunshots, and then heavy shooting – which sounded just like heavy rain. Suddenly, the entire village was engulfed in flames. We were under attack by the Janjaweed (a government sponsored militia). It was terrifying and we all started running away from the fire. My mom told us to run as far as possible and went back to get my grandmother. Other villagers told us to keep going, that my mother would join us soon.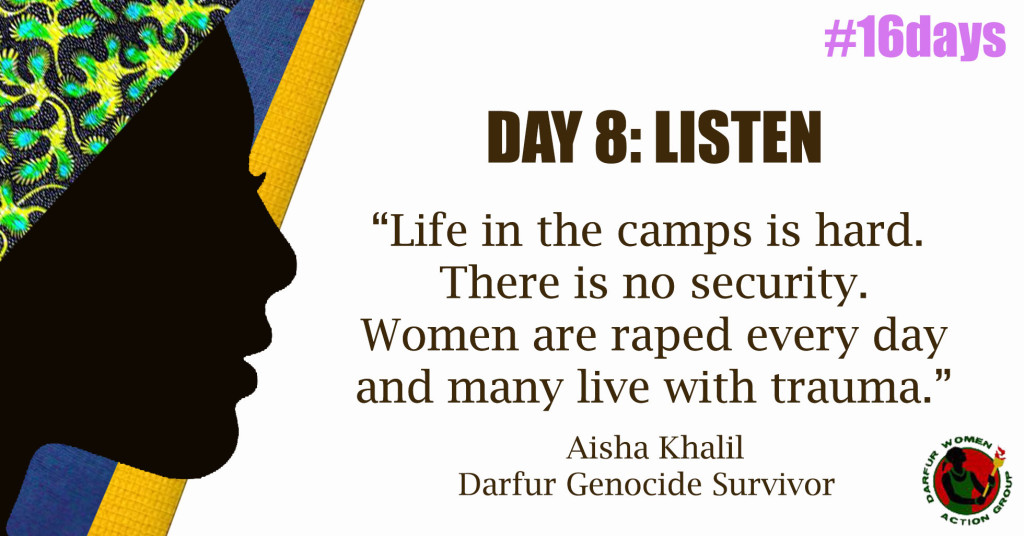 We kept running for most of the night. A few hours before dawn, someone in our group said that we should stop, find a place away from the road and get some sleep. I was very thirsty, but luckily a woman who looked just like my mother had a gallon of water that she had been carrying on her back. She gave each one of us a sip of water – but just a little, because there was a long road ahead of us and the water had to last. People started counting their family members, and I found that my youngest sister and brother were missing. I cried, and decided that I could not go ahead without them. I wanted to go back to the village to find them. But others in the group convinced me that there was no one left in the village, and that when we reached the city I would be reunited with my family.
I had no choice but to carry on. I cried almost every day but a woman from my village offered to be my mother until I found my family. I slept with her very night and she was very kind to me. We finally reached another village and I hoped that we could stay there, but it was not safe. There was news of attacks on nearby villages, which meant that the Janjaweed was close by. We were given food, water and a couple of donkeys, and continued in our journey. To our dismay, as soon as we left we were ambushed by Janjaweed soldiers. They beat us and took our food. Sadly, they also took two young women from our group aged 16 and 14. We never heard from them again.
After five days of passing countless villages in ashes, we finally reached Kalma Camp in South Darfur. People at the camp were very kind, and received us with warm greetings. The camp leader saw me and told everyone in the camp that there was a girl alone, who was looking for her family. After that, more than one hundred women came to me, assuming that I was their missing daughter. When they realized that I was not, they cried and hugged me. I realized that many families had been torn apart. My new mother and I stayed in the camp for one month, but there was no news of my family. We eventually moved to Abushok Camp for another two months. Again, several women came to see me, assuming that I was their missing daughter. And every time I hoped that one of them would be my missing mother.
I learned to swallow my pain, but I did not lose hope of reuniting with my family. Someone told me that there were many IDPs living in the city of Kabkabiya, and that there was a chance that my mother was there. When we arrived, the Janjaweed had occupied the city, and they were shooting everywhere. We had to hide for about a month in a nearby camp named Elsalaam. In the meantime, my new mother went around asking people if they heard of my mother or siblings. There was no news.
One day, my new mother fell ill and was taken to a hospital managed by Doctors Without Borders. She never came back, and I learned later that she had passed away. I was so sad and in deep pain. That kind woman had left her children with a sister to help me find my mother. I wished that I had died instead. Another family took care of me for a while, but the food ratio that they received was not enough for everyone, and their shelter was very small. Eventually they started asking other families if they could take me.
I went to live with a nice family of five – father, mother and three children – who had a house in the city. They had a daughter about my age and I lived in her room. She was very happy to have someone to play with. And I was happy because for the first time after leaving my village I was not in a camp. They became like family to me. They took me to a nearby school and bought me clothes. I never talked to them about my missing siblings and mother. They thought that the women who lived with me in the camp was my real mother. I wanted to tell them, but it was a very sad story and I was afraid that I would start crying all over again. So I just kept it to myself. But they noticed that I had trouble eating. Every time I looked at a plate of food, I would think of my family. Were they hungry? Were they dead or alive?
After three months, a woman knocked on the door and told us that my mother and two siblings had recently arrived in Abu Shok, and that they were looking for me. I was so happy that I couldn't hold my tears. For the first time my host family learned that my family had been missing and cried with me. They arranged for me to travel to a camp near  El- Fashir city on an NGO car. When I arrived, I met with my mom and we cried for about two hours. She told me that my dad and brother were killed when our village was attacked. And that my grandmother had struggled with burns on her body, and also passed away.
After two weeks, my mother and I moved back into the camp to be near relatives. I brought my books with me because I wanted to go back to school in the camp. But my mother fell ill and was soon paralyzed due to trauma.  I was only 12 years old, but I had to take on the role of raising my youngest brothers, who were 5 and 7. Today I am 23 years old and I am grateful that I could help them to grow. However, I wish that I was given the opportunity to finish my education.
I still live in the camp and I work to organize women to support each other. Life in the camps is hard. There is no security. Women are raped every day and many more are living with severe trauma. There is no medical treatment or any kind of support for them. I have also recently adopted two children whose mother was raped and shot to death. It will not be easy, but I will raise them and I hope that they will grow and find education.
My message to world  is that women in Darfur are strong and kind, and if they are free they can do much for their families. We need protection, education and support – especially for the ones who have been devastated by rape. Please tell the world that Darfur is still burning, that most men were killed and the women are left to suffer. Please share my story and tell everyone not to forget about us. I have long wanted to share my story. Thank you Darfur Women Action Group for giving me a voice."
—
TAKE ACTION. Please join us in taking at least one action that will help end violence against women in Darfur:
Raise awareness by sharing our campaign content on social media, using the hashtags #16Days and #StopRapeInDarfurNow.

Tag United Nations on social media and demand accountability for the 2014 mass rape in Darfur. Share it with 10 people in your network. Use @UN on Twitter and @UnitedNations on Facebook.

Donate to DWAG to support a rehabilitation center for women survivors of sexual violence in Darfur.
Join our Rapid Response Network, a group of community members who are on standby to help us with campaigns and petitions.
Send a solidarity message that we can share with our supporters and the women in Darfur: communication@darfurwomenaction.org.